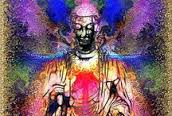 Adacia is the goddess of injustice, the immortal enemy of Dike . Dike often stirs up fights with her, to see who is the more 'powerful.' She is described ugly, as Dike is described beautiful.
There have been a lot of paintings of Dike dragging and beating Adacia with a staff. 
Personality
Edit
Adacia, envious of Dike and forever defeated, she is trying to find more ways on how to get back to her.