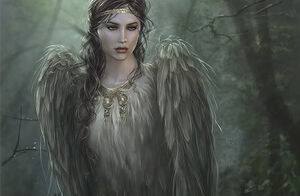 Alcyone is yet another goddess of the sea, but her name defines the moon, peace and trainquility. Soon after enjoying her immortal self, she got married to someone called Ceyx. But Ceyx was a mortal and he died in a shipwreck, then Alcyone threw herself into the sea for her to join her husband in the tragic fate, but immortal, she got rescued by the gods, along with her husband. They turned into birds and still build their nests along the coastline. 
Personality
Edit
Alcyone is hopelessly romantic, so she dares to sacrifice herself for her loved ones. 
Ad blocker interference detected!
Wikia is a free-to-use site that makes money from advertising. We have a modified experience for viewers using ad blockers

Wikia is not accessible if you've made further modifications. Remove the custom ad blocker rule(s) and the page will load as expected.