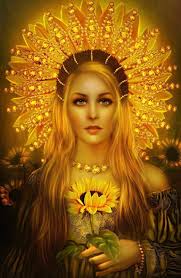 I am Alectrona the Goddess of the sun and Greek goddess, original goddess of the Sun. My character jewelry is all Onyx, for both myself and my mortal supporters, because Onyx is powerful protectibe, absorbs and transforms negative energy, and helps to prevent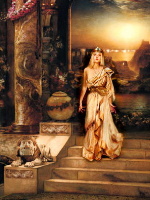 the drain of personal energy. Since I am the unknown awakener, onyx is powerful enough to aid development of emotional and physical strength and stamina, especially when support is needed during times of stress, confusion or grief.  
☀Alectrona (also known as Electryone or Electryo) was the greek goddess of the sun. It is thought that she might have also been the goddess of morning or 'waking from slumber'. I'm the princess of the island of Rhodes (Greek Aegean). Daughter of Helios and the island-goddess Rhodes.
I am the governess of man's waking sense.
I can provide ascension of the mind, enlightenment, being lifted onto a higher plane and ability to govern greater common sense when asked.  
I am a powerful ally for those who want to start a journey of knowledge and learning.  
My parents were Helios and Rhode (a sea nymph and patron goddess of Rhode island). My sister Helidae (offsprings of the sun). We had a very good sister relationship. I was in love with Apollo. In Greek mythology, Electryone or Electryo or Alectrona (Doric form) was a daughter of Helios and Rhodos, and sister to the Heliadae.  
She died a virgin and was worshipped as a heroine on the island of Rhodes.  
It is speculated by some that she was possibly a goddess of the morning, or of man's waking sense, which causes him to wake up in the morning; the Doric form of her name is akin to the Greek word for "rooster" (Alectrona, the feminine genitive of Αλεκτορ, Alektor, the ancient Greek word for "rooster"), while the Attic form Electryone is akin to the word for "amber" (Ἠλέκτρα, Elektra), as in the amber color of sunrise (as opposed to sunset, implied by Helios being her father); naturally, either of which would be an appropriate name for a solar goddess.
A marble tablet from the 3rd century BC found in Ialyssus contains an inscription about the regulations for visitors to the temple of Alectrona.
Random Information
Edit
ASSOCIATIONS
Edit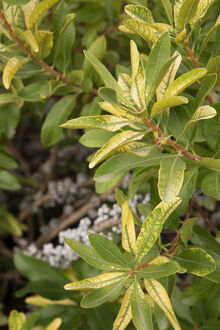 | | | |
| --- | --- | --- |
| | Weekday | Sunday  |
| | Planet | Sun  |
| | Month | June  |
| | Gemstone | Onyx  |
| | Color | Amber or Green |
| | Foliage | Coconut  |
| | Animal | Eagle  |
| | Scent | Bayberry  |
| | Herb | Mint  |
BAYBERRY ANCIENT USES/TRADITIONS - The oil of Bayberry will bring prosperity and luck. The leaves are burned to enhance psychic powers and to produce visions. Worn in an amulet, it will provide protection from evil and negativity. The leaves are used as decorations during the Yule season, and placed in your window it will protect against lightning striki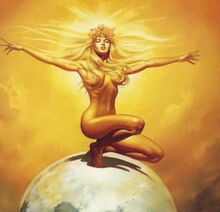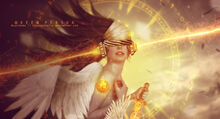 ng your house. Sprinkling the crushed leaves in your cupboards will keep out cockroaches and other insect pests.Bayberry candles are burned to bring luck and prosperity to the household, good fortune for both soul/physical and money