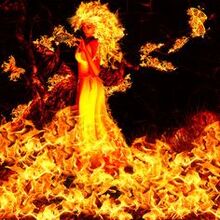 Anchiale is one of the latest generation of Titans, and she represents the warmth of fire. With Hestia being the fire goddess belonging to Mount Olympus.
Generation
Edit
She is in the latest generation of the Titans and one of the youngest Titans to ever be included with Cronus.
Personality
Edit
Anchiale is normally used to flaming surroundings around her, so she is often curious and mistook as simply a compassionate person, but there's more to her that meets the eye. She doesn't like to be called evil when she accidentally does unwanted this, via setting a forest on fire, but will get what she wants either way...
Ad blocker interference detected!
Wikia is a free-to-use site that makes money from advertising. We have a modified experience for viewers using ad blockers

Wikia is not accessible if you've made further modifications. Remove the custom ad blocker rule(s) and the page will load as expected.