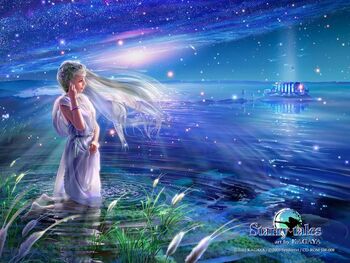 Andromeda is a princess and the goddess of dreams. She is younger than most of the goddesses, and became friends with Medusa. Dionysus appears to be older than her, and she befriends him as well.

She is the daughter of King Cepheus and Cassiopeia. Queen Cassiopeia claims that Andromeda is better than the Naiads. Though an oracle of Ammon said that Poseidon was mad at her mother and told that he was going to flood the land with Cetus the sea serpent; if her mother sacrificed herself to the serpent the island would be unharmed. Her mother, being a coward, chained Andromeda to the rock instead but she was saved by Perseus, her future husband. 
Personality
Edit
Andromeda is a interesting princess―she is smart, kind, and very brave.
Goddess Girls
Edit
Andromeda was only making a featurette in "Medusa the Mean", however she played a big role there. Overall a minor character in the book of "Medusa the Mean", she takes interest in Dionysus and Medusa.
Personality
Edit
Although she was quite uncertain about Medusa, her kindergarten buddy at first, Andromeda and her relationship started to grow. She made Medusa smile, just like she can make anyone smile.
Dionysus - Dionysus was the one who calmed Andromeda down when she was afraid of Medusa. He always amused her.
Medusa - Although Andromeda was afraid of Medusa at first, she was the one who helped her out, and vice-versa. Andromeda later on made Medusa soften up on her character. 
Greek name
Edit
Andromeda's official Greek name is Ἀνδρομέδα.