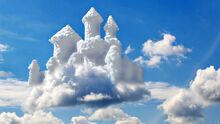 Iris owns a Cloud Palace on the topmost cloud of Mount Olympus. Iris and her family reside there, excluding out Arke. Though the Harpies reside there too. Although there are no real appearances of her cloud palace in the myth, it was once mentioned. Everything in the Cloud Palace is made of clouds. 
The Cloud Palace was once rumoured, but Pheme was actually telling the truth, she wanted to impress her peers. This Cloud Palace is able for Olympians to fly to poke their heads in to see what's going on inside. 
Ad blocker interference detected!
Wikia is a free-to-use site that makes money from advertising. We have a modified experience for viewers using ad blockers

Wikia is not accessible if you've made further modifications. Remove the custom ad blocker rule(s) and the page will load as expected.