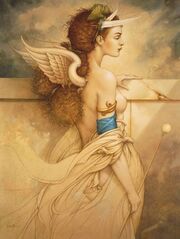 Eucleia's name means "infinite divinity" and is the goddess of glory when winning a war. She's worshipped a lot in Athens, a spot in Greece named after Athena. Eucleia was actually a mortal before, she was a very pretty human but lost her virginity and died. This was involved with sacrifice. 
Artemis' surname is also named after Eucleia, and her surname clarifies 'good glory but is yet undiscovered.'
Personality
Edit
Even though Eucleia still looks back at her past life as a mortal, and she regrets it. 
She had a very normal life as a citizen in Greece, and later on got revived and turned into a goddess by Zeus. 
Ad blocker interference detected!
Wikia is a free-to-use site that makes money from advertising. We have a modified experience for viewers using ad blockers

Wikia is not accessible if you've made further modifications. Remove the custom ad blocker rule(s) and the page will load as expected.