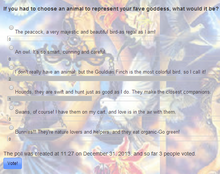 Question: If you had an animal to represent your fave goddess, what would it be?
The peacock, a very majestic bird-as regal as I am!
An owl. It's smart, cunning and careful.
I don't really have an animal, but the Gouldian Finch is the most colorful bird, so I call it!
Hounds. They are swift and hunt just as good as I do. They make the closest companions.
Swans, of course! I have them on my cart, and love is in the air with them.
Bunnies!!! They're nature's lovers and helpers, and they eat organic-Go green!
Ad blocker interference detected!
Wikia is a free-to-use site that makes money from advertising. We have a modified experience for viewers using ad blockers

Wikia is not accessible if you've made further modifications. Remove the custom ad blocker rule(s) and the page will load as expected.