Melpomene is the muse of tragedy, she has eight other muse sisters that are all involved in art and culture. She is mentioned to be one of the goddesses of the arts. 
Melpomene's sisters are Calliope, Clio, Urania, Erato, Thalia, Euterpe, Terpsichore and Polyhymnia. 
Their parents are Zeus and Mnemosyne.
Appearance
Edit
She wears a dark turqoise dress, and she holds a mask that is in the shape of a sad face. Thalia, on the other hand, holds a mask in the shape of a happy face. 
Melpomene has also made her cartoon debut in Disney's 1997 animated film, Hercules. She plays the third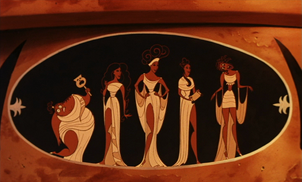 best role as a muse there. The first being the leader, Calliope, and the next being Thalia. 
Personality 
Edit
Melpomene is the tragic muse of tragedy, and she normally takes the lead role in the negative parts of a song. 
Appearance
Edit
She has the longest hair which is curly, and she is one of the tallest muses there. Like in the real myth, her hair is seen as long as well. 
Greek name
Edit
Melpomene's official Greek name is Μελπομενη.
Ad blocker interference detected!
Wikia is a free-to-use site that makes money from advertising. We have a modified experience for viewers using ad blockers

Wikia is not accessible if you've made further modifications. Remove the custom ad blocker rule(s) and the page will load as expected.